Welcome to 5 Star Corp.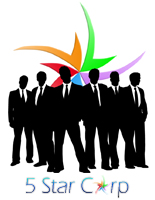 To our guests, friends, clients & to any new visitors or prospective clients, a warm welcome to 5starc.com. This site is one of the first in a series of moves we've made recently to resolidify our presence in the IT service arena.
As our history page explains, we've been providing the community with services since 1997 as an unofficial company but worked in the background for a bit as our team began to seek a higher learning. You can consider this launch of our new site, not only a sample of our work, but a sign that we are making moves, and are back to regain our position as the front runner in all that we do.
5 Star Corp. is divided into 5 departments namely Grafix, Solutions, Repairs, Engineering & Media. Our Grafix Department specializes in superior graphic design of print media as well as web graphics & animation. The active Solutions Department offers a wide range of website and business software solutions that can increase the efficiency and reliability of the services you offer. For PC repair & troubleshooting as well as business and home networking issues our Repairs Department offers a wide array of services provided by our experienced team. Currently our Engineering and Media Deparments are inactive, we are hoping to activate these departments in the near future. For more information, access each department's homepage by using the tabs at the top of this page.
Feel free to look around as we offer many services to the public and private sectors. To get in contact with one of our team members, use the contact us page. Once again, thank you for visiting our website and we look forward to one day working with/for you.
Latest News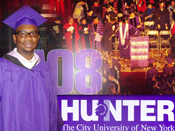 Starting the New Year off as a new man, Romero K. Kelsick proudly sported his purple cap & gown on January 24th, as he reached the climax of yet another milestone in his life. Not even the cold Manhattan air could overcome the warmth felt by his proud family, friends and well wishers in attendance at the 196th Commencement of CUNY's Hunter College. After four years of balancing his role as a Hunters College honors student with that of a devoted father and 5 Star Corp's lead Programmer, Romero walked with a Bachelors of Arts Degree in Computer Scie...
more
In recognition of the need to continuously develop our youth's knowledge, the 5 Star Corp web development team who are all past graduates of the Valley Primary School have undertaken an initiative in collaboration with the Valley Primary School. As 5 Star's aim is to provide Professional Information Technology services to the public, it is in this light the project has been undertaken. This project spearheaded by the Parent Teachers Association of the School and 5 Star involves the designing, programming and development of a content management system for...
more
Scratch Pad
Latest Projects
Here are some of the latest websites done by 5 Star Solutions:
5 Star Grafix was proud to be chosen to do the album graphics for both the Exodus and Supreme Bands for their 2007 albums as well as the posters for the Byron Lee, August Monday Beach events and the Miss Anguilla competition.
Hard Hats required!!!

The guys are hard at work trying to complete the website. Even though the site was officially launched on January 1st 2007, work is still ongoing. Please bear with us as we continue to work on it.
P.S. Look out for falling bits of Code!!!
Stay tuned for more...