News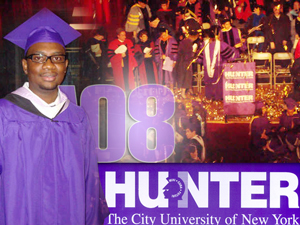 Starting the New Year off as a new man, Romero K. Kelsick proudly sported his purple cap & gown on January 24th, as he reached the climax of yet another milestone in his life. Not even the cold Manhattan air could overcome the warmth felt by his proud family, friends and well wishers in attendance at the 196th Commencement of CUNY's Hunter College. After four years of balancing his role as a Hunters College honors student with that of a devoted father and 5 Star Corp's lead Programmer, Romero walked with a Bachelors of Arts Degree in Computer Science with a minor in Mathematics. Although his outstanding GPA earned him Magna Cum Laude Honors as well as honors within the Computer Science programme, Romero accepted his accolades with his usual modesty and humility.
The 5 Star Corp. Team is certainly proud of Romero's accomplishments and wishes him hearty congratulations and continued success, as he continues to personify 5 Star's aim to "Let knowledge approach infinity" Welcome home, where the sun is always shining....
In recognition of the need to continuously develop our youth's knowledge, the 5 Star Corp web development team who are all past graduates of the Valley Primary School have undertaken an initiative in collaboration with the Valley Primary School. As 5 Star's aim is to provide Professional Information Technology services to the public, it is in this light the project has been undertaken. This project spearheaded by the Parent Teachers Association of the School and 5 Star involves the designing, programming and development of a content management system for simplified maintenance of a website for the Valley Primary School. Currently Information Technology is taught at the School, however, the area of web design is not included as part of the curriculum. Recognizing the significant impact the World Wide Web has on the distribution of information in today's world, the intention was to provide an avenue for the students to market themselves as well as the School along with raising the standard of education by becoming more advanced with technology. It is hoped that any and all information relevant to the School will be provided on the website.
As a result a team of students was selected to assist in this project. Each student was assigned individual tasks, which combined to form all the information currently available on the site. After compiling this data, the students also entered this information into a database that provides the dynamic information for the website. Plans are steadily progressing and it is expected that the site will be launched on November 7th, 2007. After launch the site will be managed and maintained by the students under the guidance of their teachers. It is hoped that after the project is completed the children will take what they have learnt and pass it on to their fellow classmates.

The members and staff of 5 Star Corp would like to express their sincere gratitude to the Anguilla National Queens Committee for commissioning 5 Star Solutions to design and implement a judging software package for the Summer Festival's Miss Anguilla Queen's Pageant. Such an opportunity created a means for us to utilize our skills in software development and implementation and most importantly to demonstrate to the wider public the diverse services we have to offer.
The critical features of the system as requested by the committee's coordinator included functionality to restrict judges from revisiting and altering contestant's scores after they were submitted. Secondly, the design team at 5 Star Solutions pre-programmed the system to produce the results of the competition almost instantaneously.
5 Star Solutions was pleased with the overall performance of the system and we would welcome the opportunity to utilize the judging software package for the events of summer festival 2008 as well as any other competitions both locally and regionally. Persons interested in this software package can contact any member of the 5 Star Team and request a demonstration.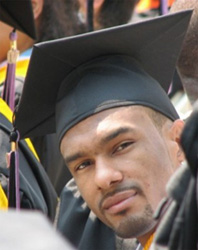 5 Star Corp proudly congratulates our team member Damien T. Harrigan on his graduation from City College of CUNY in Harlem, NY. Damien graduated Magna Cum Laude with his Bachelors Degree in Computer Engineering and was inducted into the Engineering Honor Society Tau Beta Pi; the Electrical & Computer Engineering Society Eta Kappa Nu ; the Golden Key International Honor Society; and is also a member of Who's who among American colleges and Universities.
A well seasoned IT All-Star, Damien Harrigan has already logged over a decade of work in this field. 5 Star Corp is certainly glad to regain his services and congratulates him on the outstanding mark he left at CCNY.
Greatness

posted Mar 11th, 2007 8:16 am by R. Webster
5 Star Corp, in collaboration with Tackle Box Sports Centre and a selection of young talented athletes, has launched a series of posters entitled, "Greatness".Over the years, this group of sports enthusiasts has always supported youth involvement in sports. Consequently, we deemed it necessary to find a means of encouraging athletes through the services we provide collectively.
In creating a campaign that would aptly portray our goal, we solicited the assistance of FIT advertising major, Kerry Harrigan, originally of Island Harbour. It was unanimously agreed that the campaign should focus on making the athletes understand, and internalize, that they are just as talented as the "popular" athlethes- those who are easily recognizable on television and other media.
The first poster, which was released 3 weeks ago, features 16 year old Krystie Webster of the Long Road. Krystie has a natural passion for football, and despite her tender age has been playing for over a decade. Krystie was very excited to be chosen as the first athlete to be featured on the poster series. What delighted her even more was the fact that we were perhaps even more excited than she was to have her assistance in portraying our message.
5 Star Corp and Tackle Box Sports Centre take this opportunity to salute all young athletes who train tirelessly and regularly. Your efforts have not gone unnoticed and we pledge our continued support as you journey towards putting yourselves and Anguilla on the map.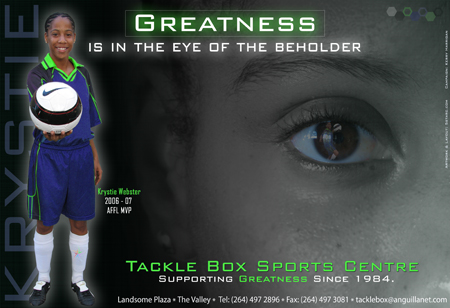 Look for our 2nd feature athlete to be released within the next 2 weeks.
Yes, we know it's sad, but its true. This is indeed our 1st Official Company Website. Those of you that have known us long enough to have been around for our Geocities site featuring a Pic of the Week and an ICQ "who's online" page, or our DVD rental site "AXADVD's" may remember those as our other "online presence's". However, as a site promoting our IT services, this is definitely a long coming first.
Nonetheless, to our old guests, friends, clients & to any new visitors or prospective clients, a warm welcome to 5starc.com. This site is one of the first in a series of moves we've made recently to resolidify our presence in the IT service arena. As our history page explains we've been providing the community with services since 1997 as an unofficial company but worked in the background for a bit as our team began to seek a higher learning. You can consider this launch of our new site, not only a sample of our work, but a sign that we are making moves, and are back to regain our position as the front runner in all that we do.
Enjoy the site...get use to us.......we're BACK!